What is all the fuss about Blackout curtains?
What is all the fuss about Blackout curtains?
เกริ่นเรื่อง: The benefits of getting Blackout curtains and why you should be using them in your home as soon as possible
5 ต.ค. 61 , View: 264 , Post : 13


This article is about the benefits of getting blackout curtains
and why you should be using them in your home as soon as possible.
It is evident that blackout curtains
provides tons of benefits to everyone residing in Thailand. The weather and the climate in this tropical country is warm at best, and could even reach unbearable degrees during the hottest Thai summers. living at home means turning on the air conditioner 24/7 and pulling down the shades, and even that is not enough. At best it gives you complete privacy, but at worst the solar radiation heats up the rooms in your home creating a hot, sweat-inducing atmosphere.

This is why blackout curtains are so awesome.

Before we talk about all the great values and benefits of blackout curtains, what exactly are they, and why are they called "blackout curtains", are they black in color?

No, they are not, they come in all kinds of colors and designs ranging from the bright colorful floral patterns, to the elegant, three-dimensional texture designs.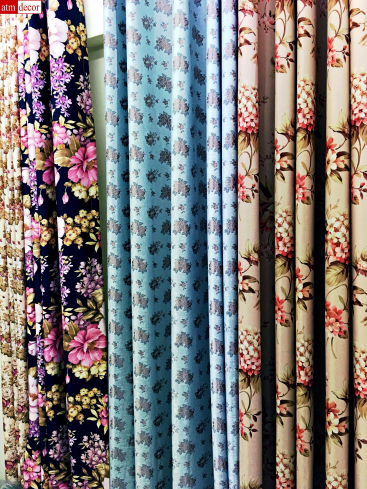 If they are not call '
blackout curtains
' because they are solid black in color, then do they make your room completely pitch dark?

Yes and No.

Well...

Here is the deal.

When you hear about blackout curtains, you couldn't be sure what the other person is refering to unless you ask them what type of blackout curtains they are talking about. There are actually many types of curtains that are considered as 'blackout curtains'. Some shops sell the foam-backed curtains as 'blackout curtains' because they block out 100% of the sun light. However many claim that these foam-backed curtains are toxic and that one should not be exposed to them for an extended period of time.
With the health concerns of using foam based curtains, scientists have developed the blackout lined curtains that contain blackout fabric sewn in between the curtain fabrics. The lining is stitched in between the fabrics so that it is not visible from the front or the back. These modern blackout curtains are safe for extensive exposure and they also do the job of protecting us from harmful solar radiation. In addition, they also block out the sun light up to 90%, with the thicker, darker fabrics blocking up to 95%. To be fair, at that range the percentage does not even matter any more, your room would be dark enough for all practical purposes.

These technologically advanced curtains have a special lining feature that are thermally insulated and energy saving because they can block out the sun light and its ultraviolet radiation without being a danger to your health. They are also light and soft to the touch. These innovative blackout curtains are extremely user friendly as well as
health friendly. By themselves, they might not block out the light completely 100%, but they do block out ultraviolet radiation completely.

If you really do want your room to be pitch black, and don't want to compromise your health, you could add a silver backing behind your curtains. These silver backings are to make your room completely dark, the material is used to line the back side of your drapes.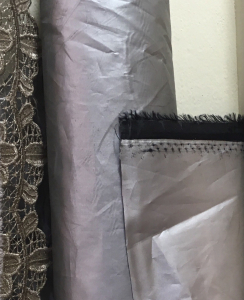 In most cases though, adding a silver back lining isn't really necessary, the blackout curtains by themselves are sufficient to ensure that your home has a nice and cool indoor environment to live in.

Well, aren't my existing curtains doing that already?

Yes, but not even close to the capacity that blackout curtains have.

Normal curtains only blockout the sun light partially, it is not even close to 75% of the light entering your home during midday, and they almost don't even block out any ultraviolet radiation at all. The thicker varieties would block out sun light better than the thinner ones, but even the thick, traditional curtains are not as efficient at thermal insulation, room darkening, and solar radiation protection as blackout curtains.

Most people don't want to buy anything unless it really gives them a lot better value than what they currently have.
So are blackout curtains worth it?
If you live in Thailand, then the answer is...

Definitely and without a doubt!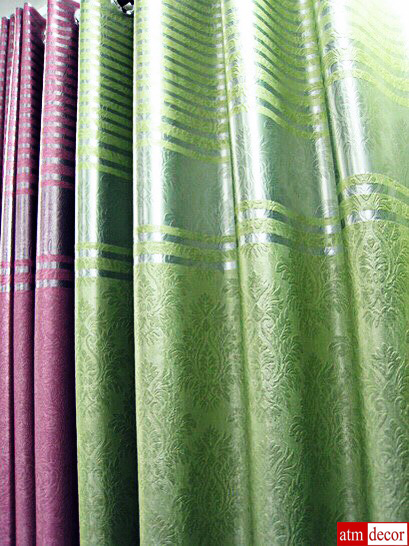 Even if you are living in other countries, the value is still worth it.

It is given that living in a hot country like Thailand, the decision to install blackout curtains is definitely a wise choice.

However blackout curtains are popular on a global scale and in all countries. They not only block out the sun light, solar heat, and UV radiation, they also provide thermal insulation and noise dampening features as well.

Everyone wants their bedrooms to be a place of peace for relaxation and rest. Noise pollution is known to cause brain fatigue and restlessness, higher intensities may even lead to depression. The noise dampening qualities of blackout curtains ensure that one could have a bit of peace and quiet, to have a place of relaxation away from the hustle and bustle of a busy, working day.

For people who live in cold climates, the thermal insulation features help to protect you from the cold temperatures outside. Blackout curtains help to maintain and stabilize the room temperature inside your house, so that you would won't have to be bothered whether the weather outside is hot or cold.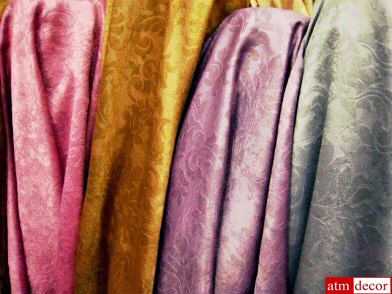 The decision to invest in blackout curtains are definitely for the long run, as blackout curtains are more durable and long lasting than standard curtains. Some varieties also have a dust resistant feature which helps to control dust inside your room. These dust resistant features also help to making house cleaning easier and quicker because you would not have to clean your curtains as often.
Here are the Top 3 Benefits of Using Blackout Curtains in Bangkok
Living in Bangkok means living with the solar heat, excessive sun light, and ultraviolet radiation. Every time you step out of your house it is an instant combat against the Bangkok heat. Even a short five minute walk equals drenching perspiration.

The first thing anybody wants after coming back home is a cold, refreshing shower and a comfy chair to sit and relax in a cool, comfortable setting, away from all the unbearable heat and sun radiation.

This is where blackout curtains come in.

The primary purpose of installing blackout curtains is to help keep your home cool and maintain the indoor temperature from heating up. They act as the dual-function insulation device keeping the outside heat from entering in, and preventing the cool A/C air currents from escaping into the atmosphere outside.

When you are living indoors, normal curtains could not help maintain the cold air currents from your A/C from diffusing outside. Normal curtains do not have that tightly knitted black lining materials that blackout curtains have.

However, please make sure that the blackout curtains are of a good and thick variety. Many curtains are sold under the name "blackout curtains" however like most products, they come in a variety of qualities and thicknesses. The thin varieties would not be able to block out the sun light as well as the thick varieties, so the name "blackout curtains" is not the 'be all and end all' of curtains. They only indicate that some blackout linings have been stitched within the curtain fabrics.

To get the really high quality curtains, you have to make sure to touch and feel the fabric textures and test out the fabric against the light to measure the translucency of the curtains. Blackout curtains do not block out sun light 100%, some thin varieties only block out 70-80% of the light, the thicker varieties can block out more. To make sure you get a 100% sun light blocking quality, you have to request for a silver black out lining to be added to your curtains. This way you would be sure that no light or heat is passing through your curtains even during the hottest, brightest summers.
Blackout curtains simply look awesome. They come in a variety of colors and designs. Some fabric designs have flowery patterns while others have more modern, simple patterns. A great number of black out curtains are made in simple, no design colors for customers who prefer curtains that way. I personally like some simple but nice looking patterns on my curtains.

Some curtains look great with the diamond patterns while others look better on modern rectangle patterns.

Without a doubt, blackout colors are a great choice for your interior decoration whether you love the floral, nature theme designs or the ultra modern simple, patterns.
At our curtains store, we offer a great variety of blackout curtain fabrics in wholesale prices. We offer a wide range of blackout curtain fabrics with numerous designs and colors.




Our black-out featured curtain textiles range from the colorful, flowery patterns to the simple, plain colors. We offer the 2.80 meter width curtain materials so that the curtain fabrics can be stitched into seamless, better looking curtains. The 2.80 meter curtains make stitching curtains easier as you would only have to stitch the fabrics together without having to cut them into individual pieces and stitch them piece-by-piece. This is because the width of the fabric is long enough to be used as the height of the curtains, and you would only need to get the amount according to the width of your windows.



Source: ผ้าม่าน พาหุรัด



แฟนคลับ [0]

Add เป็นแฟนคลับ Blog นี้
แจ้ง Blog ไม่เหมาะสม
C o m m e n t
1

---

1 intern.azaza@gmail.com บอกว่า :
Thank you so much for such a great article.It has been very useful for me and for sure to everyone who had read this.
You have such a great mind to come up with this.
To help you with any duties you're dealing at home try our <a href="https://cottoncare.com.sg">blackout curtains singapore</a>
Just visit our website, it would mean a lot. Thank you!


22 พ.ย. 61 / 14:49

---

2 intern.azaza@gmail.com บอกว่า :



11 ธ.ค. 61 / 16:43

---

3 shenna บอกว่า :



24 ก.ย. 62 / 13:58

---

4 aciel บอกว่า :



3 ต.ค. 62 / 14:25

---

5 Luckie บอกว่า :
Many tend to ignore frequent <a href="https://www.cottoncare.com.sg/curtain-cleaning/">curtain cleaning</a>, whether because of busy schedules or because of an inanimate item.<a href="https://www.cottoncare.com.sg/curtain-cleaning/">curtain cleaning</a>


22 ต.ค. 62 / 14:15

---

6 Sheon บอกว่า :
<a href="https://www.cottoncare.com.sg/curtain-cleaning/">curtain cleaning service singapore </a> is really in demand as many individuals in singapore have acknowledged the beauty of cleaning the curtains.


22 ต.ค. 62 / 15:06

---

7 Sue บอกว่า :
<a href="https://www.cottoncare.com.sg/curtain-cleaning/">curtain cleaning service</a> is very popular in Singapore. Where Singaporeans are well known in acknowledging and giving significance to their curtains.


22 ต.ค. 62 / 15:20

---

8 saimiel บอกว่า :
Cotton care offers an A+ quality and budget friendly <a href="https://www.cottoncare.com.sg/hostel-and-dormitory/">hostel laundry service</a>.


12 พ.ย. 62 / 15:17

---

9 saimiel บอกว่า :
Cotton care offers an A+ quality and budget friendly <a href="https://www.cottoncare.com.sg/hostel-and-dormitory/">hostel laundry service</a>.


12 พ.ย. 62 / 15:27

---

10 jenny บอกว่า :



18 ธ.ค. 62 / 10:13

---

11 jenny บอกว่า :
At the current time, because of the busy schedule every day, people have little time to keep themselves at home and to focus attention on other key issues such as washing dishes or washing clothes. Thus, they need people to help them lift their daily business, especially when it comes to <a href="https://www.cottoncare.com.sg/cleaning-process/laundry-services-laundry-collection-delivery/">laundry</a>, because it's too difficult to keep up with each other.


18 ธ.ค. 62 / 10:42

---

12 jenny บอกว่า :
Are you tired of looking an <a href="https://www.cottoncare.com.sg/office-carpet-cleaning/">office carpet cleaning</a> ? Don't worry cotton care offers an excellent quality office carpet cleaning.


20 ธ.ค. 62 / 08:58

---

13 digitaldoubt@gmail.com บอกว่า :



23 พ.ค. 63 / 23:32

---

1
C O M M E N T B o X

---


อยากบอกว่า :

---